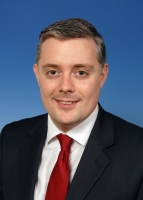 Andrew Carrick BSc (Hons) MRICS
Associate
Andrew has been a Chartered Valuation Surveyor since 2006 and is an RICS Registered Valuer. After graduating from the University of Northumbria with an Honours Degree in Urban Property Surveying, he started his career with Langley Taylor in 2003, being made an Associate in 2007. In 2019 he joined Fifield Glyn, following a merger with Langley Taylor, and works in the Mayfair office.
He is involved with leasehold reform valuations and negotiations, residential valuation and ground rent reviews, planning and listed building advice, commercial lease renewals and rent reviews under the Landlord and Tenant Act 1954 and asset valuations. In relation to leasehold reform, Andrew has given evidence at the First-tier Tribunal (Property Chamber) as an expert witness.
Andrew has been involved with LionHeart (the RICS' benevolent fund, supporting RICS professionals and their families) since 2009 and became a trustee of the charity in 2014. He is a past chairman of RICS Matrics London Committee, the younger membership branch of the RICS supporting, networking and developing young professionals. He was elected a member of the Hermes Club in 2009 and the 1913 Wilderness Club in 2017.
Andrew Carrick BSc (Hons) MRICS
Associate
Mobile: 07834 601902
DDI: 0207 205 7173
andrew.carrick@fifieldglyn.com