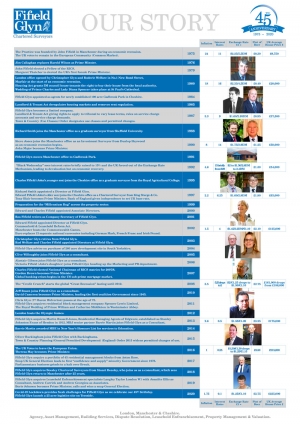 The Practice was founded in 1975 by John Fifield as a Manchester-based practice of Chartered Surveyors and Commercial Property Consultants, providing a comprehensive personal service for the acquisition, disposal, development, investment, management and valuation of retail and business space throughout England and Wales, with particular emphasis on North West England and North Wales.
Between 1975 and 1991 the firm operated from central Manchester, but then moved to Gadbrook Park – a 160 acre/64.75ha Business Park about 5 minutes west on A556 from Junction 19 M6, 20 minutes from Manchester Airport and Crewe Station. The location allows for easy access and parking for both clients and staff.
The London office was opened in 1980 by Christopher Glyn (now the late Lord Wolverton) and Roderic Welfare and is now located at 11 St George Street, Mayfair.
The Practice is involved on a daily basis in advising and negotiating rent reviews, lease renewals, lettings, sales, rent collection, service charges, building surveying services, together with development/ refurbishment appraisals, valuation/investment advice,asset management and portfolio analysis.
In January 2011, Fifield Glyn acquired a majority shareholding in Spencer Lewis Ltd of Battersea, SW11 4ND, who are specialists in residential block management in Belgravia, Knightsbridge, Kensington, Chelsea and Battersea.
In May 2013, Fifield Glyn acquired Martin Russell Jones, Chartered Surveyors and Managing Agents of Edgware, established in 1990 with roots going back to Stanley Johnston Evans of Hendon in 1912. MRJ also is involved with the provision of social housing both by Housing Associations and Almshouses in and around North West London.
In July 2015, Oliver Buckingham, joined us with the former Buckinghams client base of instructions in Crewe, Nantwich and Sandbach. In 2017 we acquired a portfolio of 45 residential management blocks from Aston Rose.
In 2018 we acquired Beesley Chartered Surveyors from Stuart Beesley, who joins us as a consultant, which sees Fifield Glyn return to Manchester after 25 years.
In February 2019 we acquired Langley Taylor Chartered Surveyors with Jennifer Ellis as Consultant, Andrew Carrick and Andrew Georgiou as Associates. Langley Taylor are specialists in Leasehold Enfranchisement in residential property and have joined our Mayfair office.
In 2020 celebrated 45 year of Fifield Glyn and created a detailed timeline, which you can see by clicking here.
We hold Professional Indemnity Insurance up to £5m on each and every claim.
We have banking facilities through National Westminster Bank PLC – Mid-Cheshire Business Centre.
We were approved by the Department of Environment's Consultants Register for Estate Surveying, Building Surveying and Project Management Services in May 1995.
We are also registered as an approved supplier by The Chest which is the North West's Local Authority Procurement Portal.