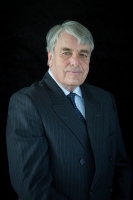 John G Fifield FRICS
Consultant
I am John Grant Fifield of Maple Cottage, Acton Bridge, Nr. Northwich, Cheshire born 15.6.46. I am a Fellow of the Royal Institution of Chartered Surveyors (elected 16.1.79) and Consultant of Fifield Glyn Limited, Chartered Surveyors of 11 St George Street, Mayfair, London W1S 2FD, 7/9 Oxford Court, Bishopsgate, Manchester M2 3WQ and No. 1 Royal Mews, Gadbrook Park, Cheshire CW9 7UD. I have been in practice for 55 years. I commenced practice in 1965 with Buckell & Ballard in Oxford, moving to Dunlop Heywood & Co in Manchester in 1968, prior to commencing the Practice in Manchester in 1975.
I am a past Chairman of the Greater Manchester Branch and Junior Organisation of the Royal Institution of Chartered Surveyors. I am a former member of the RICS Management Board, RICS Commercial Property Committee, RICS General Practice Divisional Council and past Chairman of the RICS Small Firms Panel. I am a past President of the Manchester Society of Land Agents and Surveyors which was established one year prior to the RICS in 1867 having been Honorary Secretary for 7 years. I am a founder member of Arbrix which is an organisation set up under the guidance of RICS for the ongoing training of Arbitrators and Independent Experts.
I am also an RICS Accredited Expert Witness for Commercial Property and Residential Land in relation to Valuation, Development, Dilapidations and Professional Negligence, throughout North West England and North Wales. I also carry out appointments from both the RICS and by agreement between the Parties to act as Arbitrator/Independent Expert in respect of similar disputes.
I am qualified to act as both Single or Single Joint Expert for valuations required to comply with Part 25 of the Family Procedure Rules 2010.
I act regularly on behalf of Owners, Occupiers, Developers and Investors in relation to property matters. Amongst the clients for whom we have acted are the following:-
Air Livery Ltd, Aramco Overseas Company UK, ASDA, Berger Group, Canal & River Trust, Cats Protection, Ceres Estates, Chatwins Bakers, Cheshire East Council, Cheshire West & Chester Council, Densems (Holdings) Limited, The Emerson Group, Finos, Gen Re, Grosvenor Estates, Hendon Christian Housing Association, Nichol & Daniel Almshouses Homes, Harrow School, Hurstwood Holdings, Ineos Chloer, Inovyn, Iran Air, J&S Motorcycles, Jack Richards Transport, Marshalls CDP, MCR Properties, Morning Foods, National Grid, NatWest, Northern Markets, Osborne House, Penna PLC, Regenesis, Saudi Petroleum, Scottish Power, Sheffield Mutual Friendly Society, Sporting Bookmakers, St Luke's Hospice, Standard Life Assurance, Stena Line, Tata Chemicals Group, Tate & Lyle, Tatton Estate, Total People, Trans Re, Trailfinders, Trumper of Jermyn Street, Vernon Cooper, Western Power. Westminster Drug Project, Willan
I have a wide and varied experience of valuing and negotiating all types of land and property throughout North West England and North Wales, though I act regularly throughout the remainder of England and Wales. My time is equally divided between agency and professional work and I am based in the Cheshire office.
I am also Chairman of Osborne House Ltd who developed Gadbrook Park (90 acre Business Park by Roberts Bakery on the Northwich Bypass – A556) in partnership with Vale Royal Borough Council, now Cheshire West & Chester Council. Occupiers include Barclays Bank, The Hut Group and Weaver Vale Housing Trust. Gadbrook Park has created over 4,500 jobs since 1984.
For more information please go to our website www.fifieldglyn.com
John G Fifield FRICS
Consultant
Mobile: 07970 723522
DDI: 01606 354790
john.fifield@fifieldglyn.com